FeelMart - Responsive / Multipurpose Opencart Template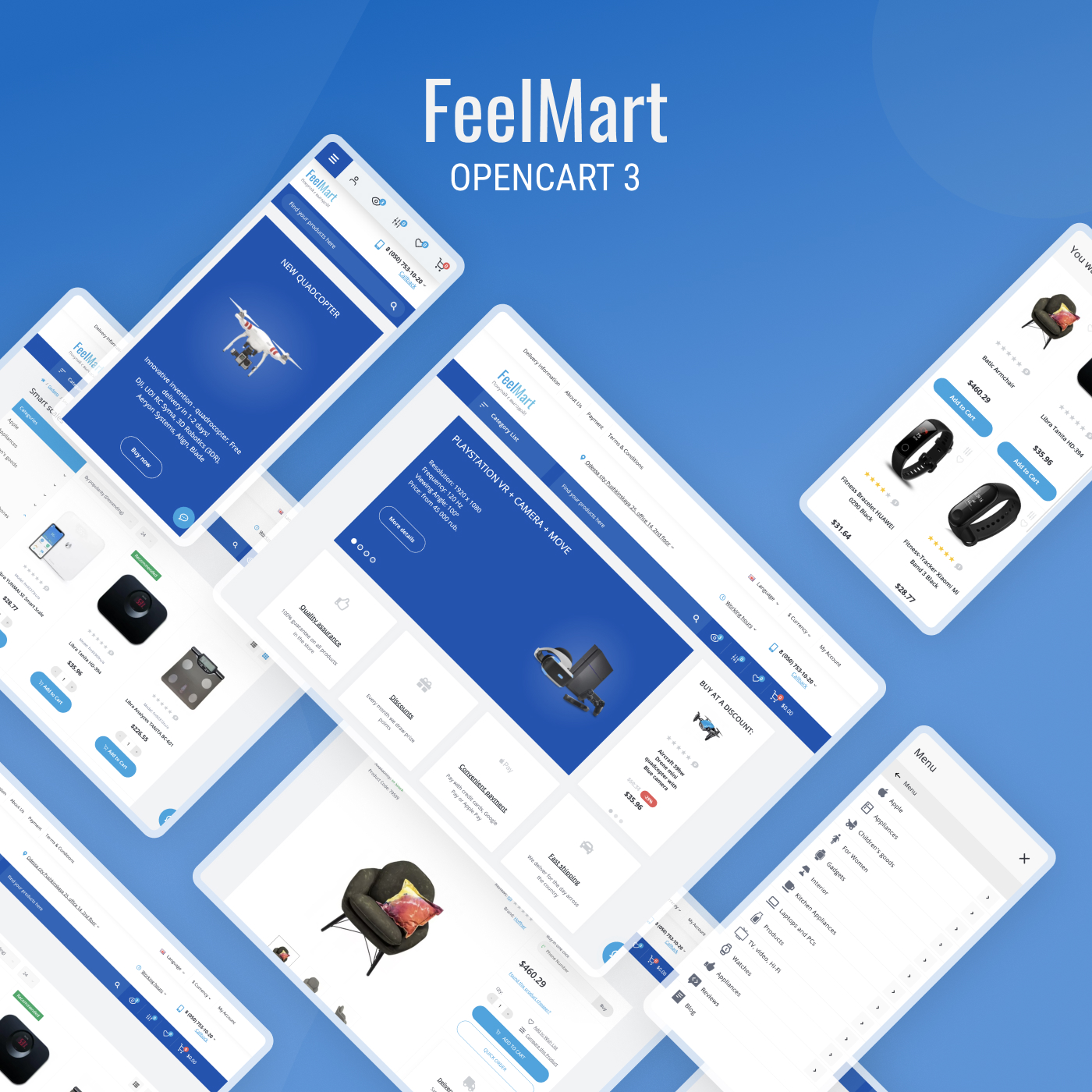 Demo Site
Presentation
Admin Panel
Documentation
Price:
65.00 $
49.00 $
You save: 16.00 $
Versions of Opencart/Ocstore
3.0.1.1 - 3.0.3.8
System requirements
PHP 7.0 - 7.4; Mysqli
Before you is a modern template that has many built-in modules.
The template is universal for any group of products and is easily customizable, for example, you can easily change the color scheme of your site.
The template is universal for any group of goods.
Here is a modern e-commerce interface, during the creation of which we paid even more attention to designing a mobile version of the site.
The following technologies have been introduced:
Optimization and compression of scripts and template styles.
Compress images to WebP format for WebP-enabled browsers.
An SEO generator that allows you to set up the SEO data of the store's main pages in a few clicks.
Integration tools with Yandex Metrica and Google Analytics analytics.
Ability to add links to landing pages for any category.
Detailed designed mobile version of the site.
Schema.org/Product product card micro-markup and breadcrumbs.
Quick links for communication through instant messengers and social networks.
And much more.
Products, household chemicals, gadgets, electronics, household appliances, watches, accessories, children's clothing and accessories, shoes, spare parts, bicycles, cars, motorcycles, construction, repairs, women's and men's clothing, household goods, plumbing, cosmetics, perfumery, furniture and others - any goods will look good on the showcase of your online store.
A Quick Start archive is provided, which will allow you to install a copy of the demo site on any assembly (Opencart or Ocstore). The archive and installation instructions are issued upon request in the support center after paying for the license.
When buying a FeelMart template, each new client receives free technical support from our company's specialists for one year with the possibility of renewal. The FeelMart template will be constantly improved, and all updates within the license are absolutely free!
FeelMart looks friendly in the eyes of search engines. Modern advanced snippets have been implemented to make your site stand out in search engines: product markup, breadcrumb markup, markup of product reviews.

List of modules that are included with the Feelmart template:
"Buy in one click with options and account"
"Quick order"
"Quick View Products"
"Subscription"
"Mega menu module"
"Slideshow+"
"Banner +"
"Micromarkup"
"Auto-update prices when choosing options"
"Found cheaper"
"Products from categories"
"Back call"
"Advanced Notifications"
"Terms of agreement"
"Additional tabs in the product card"
"Latest comments"
"Store Reviews"
"Category wall"
"Analytics and e-commerce Yandex Metrika + Google Analytics"
"Page 404"
"Cookie Policy"
"Template management and customization" contains more than 100 settings
"Viewed Products"
Feedback Widget
"Popup cart"
"Live search"
Full Russian, Ukrainian and English localization of template modules
Blog - the ability to add news and articles with relevant products, comment support, post photos, featured articles.
Stickers for products (automatic and custom).
SEO generator - "SEO Titles", which will allow you to set up SEO data in products, categories and manufacturers in a few clicks.
SEO generator - "SEO URL", which will allow you to set a template for automatic generation of SEO URLs when adding / editing products, categories, manufacturers, articles, blog categories and blog articles.
A module has been added that adds additional information to the customer's order letter: product image, phone numbers, social networks. networks and contact details and opening hours of the store, as well as a detailed letter to the administrator when placing a new order.
Widget "Administrator's notifications", which will allow you to track new requests received in the modules "Callback", "Found cheaper" and new reviews pending moderation in the "Reviews about the store" module. You can also enable the display of information about orders and products in the widget.
Fancybox plugin for viewing photos in the product card.
The ability to set custom sorting methods in the catalog: by sorting order, by name, by price, by product code, by quantity, by popularity, by date added, by rating.
The ability to add a product to the wish list without registration.
Responsive video from Youtube with lazy loading in the product card.
Delayed loading of the map (location) in the site header and in the information menu in the mobile version.
The ability to create links to landing pages in the main list of categories and on the categories page under the description.

(new)

Zoom in product card and image gallery on desktop devices.

(new)

"Information strip" module that allows you to display a block at the top of the page with informational messages about promotions, holidays and other information that you need to draw the attention of store visitors to.

(new)

Open Graph markup for structured page information when a user shares a link on social networks or instant messengers.

(new)

Automatic responsiveness of Youtube video with lazy loading in the product card, as well as on the "Info" and "Blog Post" pages.

(new)

Multi-products

(new)

Multicontacts

(new)

Q&A in the product card

(new)

The "Fast Order" module - a module that will allow you to make a one-page checkout.
Clean and valid code without errors according to W3C standards.
​License terms:
- Template license key is provided for 1 domain and all its subdomains.
- The license is issued for an unlimited period, you get lifetime free updates throughout the template development cycle.
- When you buy a template, you get free technical support for 1 year, after a year you decide for yourself whether you need to continue technical support, it will not affect access to files and the license itself.
- Technical support can be extended at any time if necessary, the cost is only $20 per year.
- You can change the license for the domain once for free.
The FeelMart template was developed using technologies: Bootstrap 4, jQuery 3, Font Awesome 5.
Nice and functional layout. Thanks to the development team, they always promptly provide technical support
I want to thank the team for:
- perfectly made template
- excellent technical support: they quickly, simply and very competently explain, help with settings and other issues that arise
- thank you for your talent, creativity and inspiration.
This is my second pattern that I bought and I am very satisfied.
And I recommend it to everyone who plans to buy!!!
And to everyone - PEACE, CALM and LOVE!!!
Convenient and easy to customize template. Good technical support. I recommend the template and thank the developers :-) Slava Ukraine!
Great template!

Easily customized to customer requirements.
Operational technical support. Thanks!
A worthwhile template with a fairly rich functionality, the development of which will be more fully developed a little later. Feedback will be supplemented by a link to the site and feedback on the use of functions and instructions for the template.
Separately, I would like to note the very prompt support. The speed of response to small requests is very fast.
Great template!
Of the minuses - there are not enough additional modules, you will have to buy more)
In the rest - everything is super!
Administrator response
Здравствуйте.

Благодарим за Ваш отзыв.

Шаблон относительно новый и постоянно дорабатывается, появляется новый функционал.
Bought this pattern a year ago. I am a complete zero in programming.
The template was installed without problems. There were some questions at the very beginning, but the guys from those support helped.
During the work there are no complaints.
Looking forward to new additions. Some new functionality may be added.
If anyone is interested, here is my online store http://303.com.ua
I was looking for a template that was fast in terms of speed, settled on FeelMart, and did not lose, there simply are no competitors, it's just a rocket. There were several questions, I turned to support, the guys answer very quickly, and even if there is no function in the template, they suggest how to solve it, in general I am very satisfied. Recommend 100%
I was advised to buy a template by an authoritative author of another module. Bought. Made a mistake right away. The support guys helped fix everything. Constantly in touch. Communicate with them is a pleasure. Of course, I will buy more templates for other projects. And, I hope that the guys will delight us with new templates for our projects
I am a student in website development. My site is https://auto-tochka.com.ua/. I like the template, I hope it will be possible to bring the site to mind. Thanks to technical support for the promptness and qualified help
Super template! support works great! Thanks guys!!!!
The template is very cool both visually and functionally. You can easily customize it for yourself. Very cool support, answers very quickly and helps to solve all the questions that have arisen. The implementation can be viewed at https://www.onlinza.com
What can be said about the template

FEELMART that he is just super, it's nothing to say working with him is a pleasure, everything is made for people.

All the functions are at hand, you don't need to invent anything already, and so everything is done, just assemble it like a puzzle and you will have an online store quickly and efficiently!!! Thanks to the developers and those support, there were two questions and they were quickly resolved. respond quickly and to the point.
I subscribe to every word: the template is fast, the code is clean, the functionality is excellent, the support is top notch!
Wonderful, convenient, fast template. very satisfied. The guys from those support helped to replace the old template with this for which many thanks to them. In general, I highly recommend!)
Gorgeous and functional review and super technical support.
Satisfied with everything 100)
Previously used for several Ultra Store sites, but for my own site I chose FeelMart. In many ways, these topics are similar, but there are also quite profound differences.
The basic functionality of the theme is just great! If you are creating a small online store with 5,000 products, you most likely won't need anything else. Is that a filter and a simplified checkout. And it will be a great fast and functional store.
In my case, the store is quite large. At the time of writing the review (the store is still under development and will be under development for another 2-3 months) - more than 120,000 products. As a result, there will be about 400,000 goods. And here there is a very important point - the theme should be friendly to third-party development. I have many categories and the products are very different. For example, doors and appliances for the kitchen. Even here, it becomes necessary to lay down completely different functionality, for example, a photo (doors are elongated, appliances are square), I'm not talking about the selection functionality, etc. The theme is extremely friendly to third-party modules, everything adapts quickly and without problems. Even now, on my test server, the site works quite quickly for such a large number of goods and such a load of all sorts of improvements.
Separately, I want to note technical support. Always answer and help.
Guys great fellows, the template is excellent!
Topics you just FIRE. I can't get enough. This is the best I've seen in a while for opencart. Thank you for this topic.

I am very grateful to you. Really very cool theme and the site works fast. The support service is top notch. They answer instantly.
Hello! I chose a template for a long time, and settled on FeelMart. I was pleasantly surprised by its functionality even at the testing stage. After the purchase, another chic feature was added - Support Service. Quickly, efficiently, without water and to the point. Both according to the template and according to the implementation of additional wishes. They often respond even after the official working hours. Nice to cooperate.
Keep it up!
This is my first store on Opencart, I didn't look for templates for a particularly long time, I looked at a dozen and a half. As a result, I chose FeelMart, for the first time I figured out what was what and where it was configured. For a couple of weeks, I sort of mastered it, technical support helped a lot. You don't have to wait long for an answer, they only rest on weekends. On weekdays, according to the work schedule, the answer comes in no more than 5 minutes, and this is very good until you forget what you looked at and what you asked about)))

Setting up the template also took a lot of time, a lot of styles changed in the code. Thank you very much for this support too. Well, now it only remains to fill the site with goods.

The template itself is very beautiful and convenient, it loads with lightning speed on any device. This is in comparison to the store sites of other platforms. A lot of flexible settings and useful buns for usability and, accordingly, conversions to purchases. With the installation of additional modules, there were small problems due to their inexperience. And here again tech support to help. A product filter, a simplified order and registration basket, a module for automating work with bonus points have been installed. I plan to install delivery modules for working with goods and a few others as needed.

In general, the impression of the platform and the template is good. We will wait for useful updates from the template developer.
P.S. Thank you tech support for the quality help!
The template is excellent - a lot of useful settings, nice design!

But in order to fully realize the tremendous benefits of the template for the user's earnings, strong support is needed.
The fact is that no documentation can replace live communication.

I thank the support center staff for the quick responses and competent advice.

Special thanks to Dmitry Anatolyevich - he helped with installing the template, advised on a number of issues that were not directly related to the FeelMart template (intelligible advice on setting up Opencart directly).

In addition, Dmitry Anatolyevich advised a useful module that will bring thousands of targeted requests to the site!

If your support remains as friendly and competent - I'm sure you will always be the first in your niche.
For a long time I have been looking for something similar in the open spaces of the tyrnet, an unobtrusive design and ease of settings, almost any user can handle it. I and the code are diametrically opposed concepts, but it was interesting to do something myself. I started getting acquainted with the TechStore evrotehnika.in.ua template, 4 years ago... and after a while I can say that I am more than satisfied, the site works stably, people find us on Google and Yandex, it brings a pretty penny, the goods are sold , all OK. At the same time, there have never been such problems as in WordPress, when there was a module, clap and there is no module and the site is broken and urgently crutches, other modules, more crutches, etc.

The other day I bought FeelMart, which added a lot of nice small buns, but those supporters are a little disturbing, special thanks, they help promptly in strategically important areas.
A fairly flexible template, it is very easy to configure (probably because of twig'a) in any case, I added a lot and a bunch more in the plans for improvements, I'll show you when I finish it :)
Those. under. excellent! Hold on Stanislav! I have many more questions
I hope the functionality will be expanded, a lot of things still need to be completed
We bought a template, based on readiness and the one that best suited our starting needs! Tech support responds quickly, helps, makes changes. They promised to help with deeper changes in the template.
The description of the template is available, I installed it myself (although I'm a noob) Many things are clear after studying the TechDocs
Great template! Support responds promptly and helps with questions!
Detailed information about the update you can see in our blog