ReMarket - Responsive / Multipurpose Opencart Template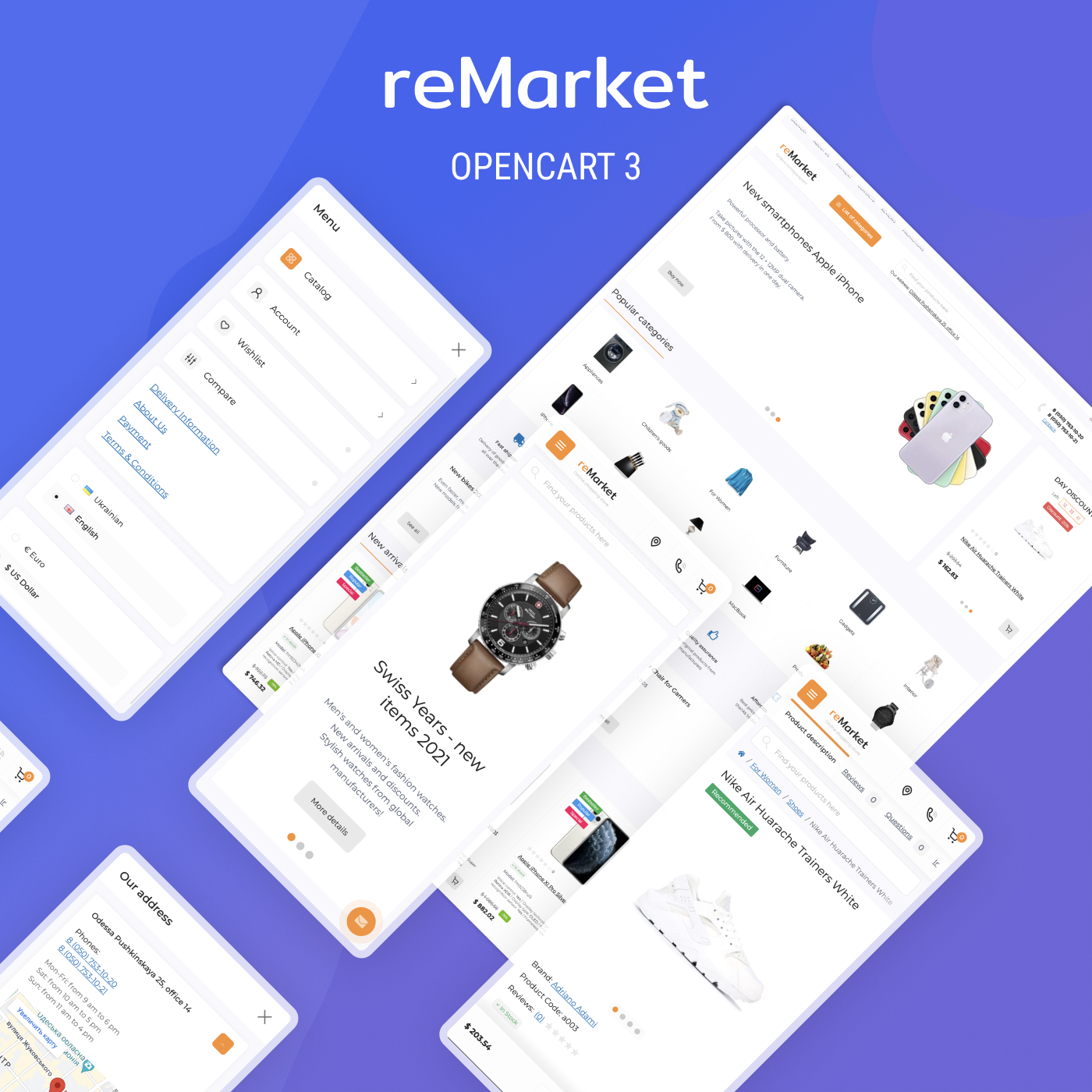 Demo Site
Presentation
Admin Panel
Documentation
Price:
65.00 $
49.00 $
You save: 16.00 $
Versions of Opencart/Ocstore
3.0.1.1 - 3.0.3.8
System requirements
PHP 7.0 - 7.4; Mysqli
ReMarket is a multipurpose template with a unique, lightweight and minimalist design, thought out to the smallest detail UI / UX and a user-friendly mobile version.
The template incorporates trendy and essential features that have grown over popular online stores in recent years.
Remarket has many plug-ins that can be managed from the admin panel in just a few clicks. The template has many built-in modules that can be managed from the admin panel with just a few clicks.
Fast performance, marketing tools will let you start selling today after installation. Your buyers will be able to buy goods in just 1 click, indicating only a phone number (in the basket and product card).
Simple and minimalistic design that anyone can understand. Excellent indexing, SEO promotion and the correct structure of the store.
Automatic conversion of images to webp, minification of scripts and styles, lazy loading of fonts and images - the most current recommendations of Google Pagespeed are taken into this template. The template is adapted to all possible popular devices.
Synchronization of data about orders, and popular products and categories to Google e-commerce, the ability to connect Tag manager and Google ads.
Excellent support for multistores. Ability to localize the template to any language (default English and Ukrainian).
Provided Quick start, which will allow you to install a demo site on any build (Opencart or Ocstore). The archive and installation instructions are issued upon request in the support center after paying for the license.
List of modules included with this template:
"Buy in One Click with Options and Accounting" module
"Quick Order" module
"Quick View of Products" module
"Subscription" module
"Mega Menu" module
"Slideshow+" module
"Banner+" module
"Micro-data" module
"Price Autoupdate When Choosing Options"
"Found Cheaper" module
"Multiproducts" module
"Call Back" module
"Advanced Notifications" module
"Terms of Agreement" module
"Additional Tabs in the Goods Page" module
"Recent Comments" module
"Reviews on the Store" module
"Category Wall" module
"Analytics and e-Commerce" module
"Page 404" module
"Cookies Policy" module
"Management and Customization of the Template" module contains more than 100 settings
"Viewed Products" module
"Feedback (call-back)" module/widget
"Popup Cart" module/widget
"Fixed Buttons" module/widget
"Live Search" module/widget
Blog module
Stickers for Products (automatic and customized)
SEO generator – "SEO Titles", which allows you to customize SEO data in goods, categories, and manufacturers in a few clicks.
SEO generator – "SEO URL", which allows you to set a template for automatic generation of SEO URLs when adding/editing goods, categories, manufacturers, articles, blog categories, and blog articles.
A module was added that adds the following additional information to the customer's order letter: a goods image, phones, social networks, contact details and store hours.
Widget "Administrator notifications", which will allow you to track new incoming requests in the "Callback", "Found cheaper" modules and new reviews pending moderation in the "Store reviews" module. You can also enable the display of information about orders and products in the widget.
Fancybox plugin + zoom for viewing photos in the product card.
Ability to set custom sorting methods in the catalog: by sorting order, by name, by price, by product code, by quantity, by popularity, by date added, by rating.
Ability to add a product to the wish list without registration.
"Information strip" module that allows you to display a block at the top of the page with informational messages about promotions, holidays and other information that you need to pay attention to store visitors.
Open Graph markup for structured page information when a user shares a link on social networks or instant messengers.
Automatic responsiveness of Youtube videos with lazy loading in the product card, as well as on the "Info" and "Blog Post" pages.
Lazy loading of the map (location) in the site header and in the information menu in the mobile version.
Ability to create links to landing pages in the main list of categories and on the categories page under the description.
Multicontacts
Q&A in the product card
License terms:
- A license key for the template is provided for 1 domain and all its subdomains.
- A license is issued for an unlimited period. And you receive free lifetime updates during the whole cycle of the template development.
- You have the possibility to change the license for a domain once free of charge.
The template was developed using: Bootstrap 4, jQuery 3, and Font Awesome 5.
This is the second time I am buying a template for this team! Absolutely satisfied with the quality and speed of technical support. Help on all issues arising from the template.

Really quality product is made by guys. It's great that it's almost out of the box compatible with OCFilter and Simple modules.

A big plus is the availability of all the necessary basic modules for the online store. + built-in Google Analytics.

Also an important factor for promotion on the Internet - Google's evaluation of pagespeed. If you do not force the site with extra "whistles", then less than 80 will not be))

P.S. All templates are regularly updated and refined, which is very important for the future.

Good luck!
Already the second template I bought from octemplates, all on top, especially those. support, responds quickly and helps solve problems related to my lack of education. Thank you very much for your help!
A big thank you to those. support, help even on questions that have already been answered) Find the time and answer correctly.
I just started working on the template. But you can immediately see the thoughtful design for sales. Support responds very quickly. So far I'm happy, thank you
Thanks to the developers for their work. Excellent template and technical support 5 out of 5. I am very satisfied with the cooperation and purchase. I will recommend to others.
Great template and super responsive support!
Of all the Opencart templates I've come across online and interacted with, this one is by far the best. Modern responsive design; fast download speed; setting and editing many elements of the template directly from the admin panel; paid modules that already come with the template and are styled according to its design, technical support - these are the main advantages for me. In general, in my opinion, this template has almost all the functionality that an average online store may need.
I would like to write a few words about those. support, as here it is absolutely reference. I already have about 10 calls on my account, for each of which I received a really helpful answer within only 3-10 minutes. For this I sincerely thank Stanislav! He was the one who answered all my requests. Also thanks to all your team for the work done and ongoing work on the development and updating of the template!
A very good template, if you do not try to change and modify it a lot.
Support is good without any "buts". Fast, professional.
Thanks!
Not one of, but the best template I have ever seen and tried on opencart. The guys really got confused and made a standing template. In fact, this is a ready-made store, it remains only to install a simple, payment system and deal with delivery.
And the support is really cool - thank you very much!!
Excellent template, smart, beautiful, a lot of settings, what I need for me, I set up and translated from opencart 2.3 to 3.0 myself, I didn't have much experience, but I did it, thanks to the support service, they helped me
Great and very smart template!
One of the best templates to buy in 2021.
Lightning support for any issue.
I recommend!

Online store Buy IP video surveillance https://kupi-ip.ru
Very nice and fast template. After setting up the server, it flies on the site with 100 thousand products and 15 thousand categories, loads pages in 0.1-0.2 seconds. Very competent and loyal technical support, everything is at the highest level.
Fire pattern, highly recommended!
Those. support is just TOP! They respond quickly and solve your questions!
On all counts, this is a top solution and you will never regret your purchase!
(dutyfree.kiev.ua - in progress)
Hello everyone, I am making a site sepo.com.ua - cartridges for printers with delivery throughout Ukraine. Thank you so much for making such good templates, of course, there are always nuances and everyone has their own "Wishlist", and you help to solve them quickly. or choose the necessary modules that fit your template.

Support Center is great.

I had several sites that I bought very expensive from 1500u.e. , due to certain circumstances, only one of them is working now, and with this wonderful module you can safely and inexpensively experiment with business ideas.
If I launch my site sepo.com.ua and it normally starts to bring a pretty penny, then I will definitely buy another template or several and put something else into work.

Do not be afraid! Do not be shy! Ask and they will help you.
Great template. It is very noticeable that everything is extremely refined almost to the ideal! Very fast, the speeds in the tests struck immediately. Competent, responsive and competent. support and respond very quickly to requests. I like everything so far, I do not know how it will be in the future. It also states that the site is in 2021, which means it will be supported and updated for a long time. 100 points for a great site! Thanks guys!
I am finishing the site. As always, everything is on top! Friendly technical support, quickly resolving issues. Great functionality of the template itself. Regular bug fixes and improvements. And the most important thing! With each new template, more and more fancy and thoughtful functionality. To date, there is no equal! I created stores on almost all the templates from the guys. Without much waste of time and dancing with a tambourine, I got a decent result.
For those who have just started choosing a template, I recommend taking a closer look at this one. Just look at the mobile version of the site and it will immediately become clear where to stop. I could change the license of the UltraStore template for the domain, it is in the stash ... I saw ReMarket (especially the mobile version), and all questions immediately disappeared. Definitely recommend to buy!
The template is great. I installed it myself and configured it too (I'm just learning)
Technical support - I have never seen better: I accidentally wrote to the director, so he answered me in a couple of minutes, giving an answer to my narrow-minded question :)
I bought a template and it comes with discounts on cool modules - I use Simple and Filterit
Very satisfied at this stage.
The setup is not complicated, you just need to carefully read everything and delve into it.
https://povar.house/
An excellent template, I already order more than one template from this developer, it performs all the tasks for the online store 100%, convenient and beautiful design, and most importantly, top support - the developer helps on all issues without problems) I definitely recommend
Template top, but there are some wishes to the developers, I would like to see the tabs of the product card not at the bottom, but at the top of the site, such as the store "komfi"
Administrator response
Доброго дня.
Дякуємо за відгук, подумаємо над цим.
Guys, you are awesome!!!!!
I used the Shop store template on opencatter for 4 years, first 2.1, then contacted support and updated to 2.3. Modules were bought and money was thrown in all the time, but there is no point in tuning old Zhiguli. So I decided to buy ReMarket on Opencaret 3.0 and did not regret it !!
Firstly: the modules that I bought for bad money turned out to be built-in (microdata, compressor for compressing pictures and converting to webp and much more. So, for the concept of numbers - only the compressor cost 3000r + installation).
Secondly, my customers mostly use the mobile version of the site. I constantly struggled with the download speed and convenience of mob. versions. After the update, and some manipulations of those. support - we were able to achieve cosmic speeds (according to PageSpeed ​​Insights), namely 100% for comp. versions and 85-87% mob. version, I'm sure that even in the Google office the guys were surprised that this is possible))) It will be interesting: https://coffeeynya.ua/ru/kofe/kofe-lavazza/ you can test it yourself.
Thirdly: I am satisfied with the approach to the client. There are no robots like "your call is very important for us, wait on the line" .. Adequate human attitude towards the client, which shows a desire to help and resolve the issue, and not stupidly "close the application" and brush it off.

I wish you huge sales, development and adequate customers)))
Great template, instant support. What else can I say, I have never encountered such a high level of service and quality of work before. I definitely recommend.
1. For this money, the best offer (functionality, design)
2. Tech support waiting for a response from 5 to 15 minutes.
3. Detailed setup instructions.
In general, 5 points!
Good template, quite simple and convenient.
Level support.
Already 3 templates I buy from this company, everything works fine.
Great template for an online store. For about a year they were developing their design, everything went long and difficult, programmers, freelancers, web designers, etc. were involved ... As a result of a crooked site with crooked functionality, I won't even write about the cost. Then they started looking for another solution and found the Feel Mart template, bought it, the site immediately began to load much faster (the conversion rate increased), and everything also looked and clicked normally (usability). But a week later, a new ReMarket template came out, they asked support to change it to a new one for an additional fee, we went to a meeting, for which many thanks, this template is probably one of the best options that I have seen (and I have seen a lot), even compared to giants such as foxtrot , epicenter, etc.. Lots of functionality and settings. But probably the most important and best thing that we started using the template is technical support. Working with programmers for a long time, I realized how difficult it is to figure out or agree on something, but here everything is so simple and fast that it's even strange, almost instantaneous and clear answer to any question according to the template. We have been using the template for about 3 months now and are constantly tweaking it for ourselves, there is always a clear answer to all questions in those support. I don't know who is responsible for your support, but this person / team deserves the most praise, thank you (I think those who read the review may think that this support wrote itself)). The only advice for those who buy a template - before contacting programmers, freelancers, before installing third-party modules, etc.. ask those support. Sometimes things can be easier than they seem. Let me give you an example: we bought a module for analytics for 800 UAH, and as it turned out later, when I wrote to support, a free module comes with the template...
After a purchase and an unsuccessful attempt to set up a neoseo template, I found this company on the Internet and bought this template. Without exaggeration, I met such adequate and fast support for the first time, and there is someone to compare with. The guys give clear and quick answers, I also liked the template itself, it's simple, easy and understandable, the main modules are included + after buying it, they give a discount on important modules for the online store. In general, with a basic understanding of the Opencart settings and a small amount of money, you can set up a good store in a couple of days.

Definitely recommend!
The launch of our site fishing1.com.ua coincided with the announcement and launch of a new template for the guys - Re-market.
The guys offered to wait a few days and log in with a new template!
For which they are very grateful!
A week after the launch, the site without a sitemap flew into the index, a lot of product pictures also got into the index, many pages are shown for top queries, orders began to come.
Google analytics and webmaster shows that the number of customers is constantly growing, and behavioral factors are at a very high level! For very reasonable money, it will be possible to purchase several useful modules that will allow you to process a wide range of the site more efficiently. I have not yet fully figured out all the possibilities of the site, as we are now actively filling it..
We express our gratitude to the guys for such a product and for the help they provide!
P.S. switched from prom.
Detailed information about updates can be receive in our blog