ShowCase – Responsive / Multipurpose Opencart Template
New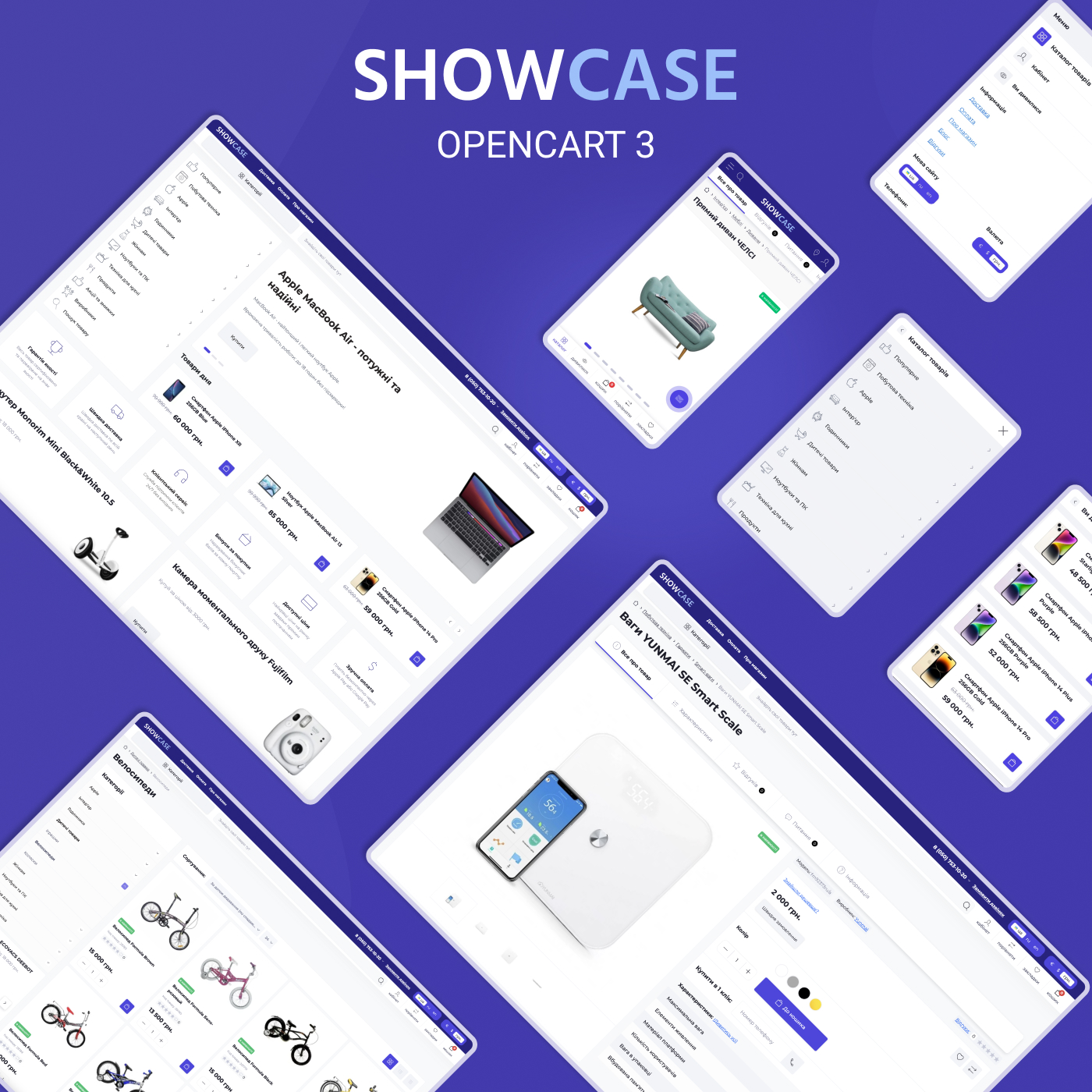 Demo Site
Presentation
Admin Panel
Documentation
Versions of Opencart/Ocstore
3.0.1.1 - 3.0.3.8
System requirements
PHP 7.0 - 7.4; Mysqli
The ShowCase template is new for 2023.
It is a ready-to-use product with a set of essential modules already built into it.
The template has a nice design, is very convenient and easy to customize, and is optimized as much as possible according to all Google recommendations.
200 + settings and 30 + various modules will allow you to quickly and easily configure the online store for any products.
Showcase is a modern template that has a stylish design and user-friendly interface for both desktop and mobile versions of the site.
Showcase has many functions, settings and tools necessary for a modern online store to quickly start selling goods.
The template files are not encoded and do not require ionCube to work. This means that you or your developer will be able to make edits and changes to the functionality of the template without difficulty.
Automatic conversion of images to webp, minimization of scripts and styles, lazy loading of fonts and images. The most up-to-date Google Pagespeed recommendations are taken into this template. The template is adapted to all possible popular devices.
Synchronization of order data, popular products and categories with Google e-commerce, the ability to connect Google Tag Manager and Ads.
Excellent support for multistores. Ability to localize the template into any language (default English and Ukrainian).
List of modules included with the template:​​
Question answer
Multi-products
Banner +
Blog
Quick order
Product Quick View
Popup Cart
Admin Messages Widget
Additional tabs
Live search
Information strip
Buy in one click
Mega menu
Multicontacts
Microdata for search engines
Found cheaper
Call Back Module
Store Reviews
Subscribe to news
Cookie policy
Landing pages
Latest reviews
Shop Benefits
Products viewed
Slideshow +
Categories wall
Product stickers
Page 404
Successful order
Analytics&E-commerce
open graph markup
SEO Generator
Module "Checkout" (Fast Order) - a module that will allow you to make a one-page checkout (checkout).
Image change module when selecting options.
Clean and valid code without errors according to W3C standards.
​License terms:
- Template license key is provided for 1 domain and all its subdomains.
- The license is issued for an unlimited period, you get lifetime free updates throughout the template development cycle.
- When you buy a template, you get free technical support for 1 year, after a year you decide for yourself whether you need to continue technical support, it will not affect access to files and the license itself.
- Technical support can be extended at any time if necessary, the cost is only $20 per year.
- You can change the license for the domain once for free.
Some modules are not included in the set with the ShowCase template: OCFilter - Product filter module (the module can be added with a discount after purchasing the template, with a promo code)
The ShowCase template was developed using: Bootstrap 5.1.3, jQuery 3.6.0, Font Awesome 5.
Already bought the 5th template from OCTemplates, this time ShowCase, the guys are doing things. Everything is conveniently implemented, the appearance is amazing, with each new template online stores look many times more modern and relevant. It can be seen that they are constantly developing and improving their products, thanks for their excellent support, they are quick to get in touch and help solve any questions. A big plus is discounts for regular customers. I recommend it to anyone who still doubts))
I have already purchased two templates for two online stores, namely the ReMarket and ShowCase templates.
I stopped at the templates of this developer, because first of all I liked the performance of the templates, 95-100%, checked with PageSpeed Insights. These are the best productivity templates out there today.
Templates contain many additional interesting modules, simple and easy to configure.
In case of difficulties, support always helps quickly and qualitatively with all issues.
There is a pleasant discount system for all customers.
In short, I recommend it to everyone!
Very happy with the template and support.
I installed it myself, the first time. Everything was shown, told, etc.
They answer all questions and help to solve.
After installation, I checked that all modules work without problems, the settings are minimal, the instructions are not easy to understand.
I also checked Google PageSpeed immediately after installation. My indicators:

Main mob 88
Main PC 96
Mob 91 category
PC category 98
Product mob 86
Product pc 93

In my opinion, these are pretty good numbers out of the box. In reality, the site just flies!
I definitely recommend contacting OCTemplates. This company works for people.
Peaceful heaven to all. Glory to Ukraine!
Super! This is not the first template I use from OCTemplates - they work perfectly. The entire starter set is in the templates. The support is also great, they always promptly help and advise on all issues. Good luck with your development and projects.
I have to say that this is a Bomb Cannon Rocket!!!

- Installed without problems
- Almost all the necessary additions are included in the template, I also delivered Nova Poshta, Payment in Parts and Monobank, - A more advanced site map module, multilingual SEO and a module for automatic processing of price lists.
It should be noted that the guys took care and I bought 90% of the modules with a discount (which is available with a promo code after purchasing the template).
The speed of the site is real when loading pages and when scanning, the pagespeed is stable in the green zone - above 96%.
As a person who is not far from development, I give a conclusion - the template is made with a soul and understanding of SEO. Thank you!
You can see what I got here:
https://elastomania.ua/

And also on the basis of advertising (I hope it's possible :) ) - everyone who wants to buy something from our bike shop gets a 10% discount (on request in personal).
Already took it for two future projects. The template is free of junk code and this is the main thing, so modifications are made without problems. I have projects where, for example, UltraStore or Remarket does not look like itself and retains its rich functionality, with this it will undoubtedly be the same))
cool theme, very stylish and modern. Thank you
We are testing a new template. The boys hold the brand. Thanks!
Detailed information about the update can be receive in our blog